COMPOUND INTEREST
. The
Country Pundit
pays tribute to the Norfolk and Western big steam program, which was still producing
Mallet Compounds
as late as 1952.
The only surviving Y-class locomotive resides far from home, in the National Transportation Museum in St. Louis, Missouri. When I'm King of the World---with apologies to James Cameron---Y6a #2156 will be returned to her proper place with #611 and #1218 under the Claytor Pavilion at the Virginia Museum of Transportation.
That might be the last Y6 intact (I saw pictures of the two in a Roanoke scrapyard in
Trains
in the late 1960s; if you want to talk about steam engines that got away, a picture in
Trains
sometime in the late 1950s or early 1960s had a North Western E-4 Hudson, which looks a lot like a
Hiawatha
but not quite as fast in ore-thawing service at Escanaba, Michigan.)
As far as that "only," that refers to the only Y-6. In Cold Spring Shops's back yard is a Y-3, No. 2050.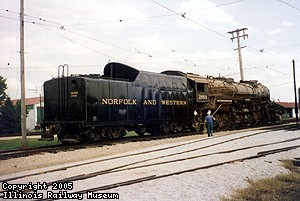 Mallet Compound at
Illinois Railway Museum
.
The locomotive was shunted outside for these pictures, ordinarily it is under roof in the building that also houses the big electric locomotives and the
Nebraska Zephyr
.